Material: iron
  Thickness: 3mm
  Strand width: 4mm
  Hole size: 50x100mm
  Frame:
  Round tube diameter: 40mm
  Round tube thickness: 1.9mm
  Stand column:
  Diameter: 60mm
  Thickness: 3.75mm
  Height: right column: 1.8m
  bend column: 0.2m
  Surface treatment:galvanized steel, and then powder coating
  Fence size: 1.8x3m (column center to column center)
  Weight: 50kg/set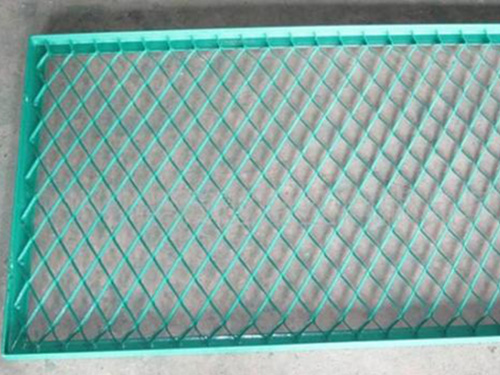 Application 1.Aerospace: nacelles, fuel filters, air filters
  2.Appliances: dish washer strainers, microwave screens, dryer and washer drums, cylinders for gas burners, water heaters and heat pumps, flame arrestors
  3.Architectural: stairs, ceilings, walls, floors, shades, decorative, sound absorption
  4.Automotive: fuel filters, speakers, diffusers, muffler guards, protective radiator grills
  5.Hammer mill: screens for sizing and separating
  6.Industrial equipment: conveyors, dryers, heat dispersion, guards, diffusers, EMI/RFI protection
  7.Pollution control: filters, separators
  8.Mining: screens
  9.Security: screens, walls, doors, ceilings, guards
  10.Sugar processing: centrifuge screens, mud filter screens, backing screens, filter leaves, screens for dewatering and desanding, diffuser drainage plates
  FAQ:
  1.Will PVC garden fence become brittle in winter?
  PVC/Vinyl fence will become less flexible in cold weather conditions. However, unless subjected to unusual impact, it will not break or crack.
  2.Will PVC Garden fence crack, chip, peel or rot?
  Vinyl fence is never to crack, chip, peel and rot.
  3.Are PVC garden fences maintenance free?
  Yes, under normal condition all that is required is an annual washing of the fence to keep it looking new.
  4.Will PVC Garden fence mildew or collect mold?
  when subjected to extended damp weather, vinyl fence will collect mold and mildew. They are, however, easily cleaned with a solution of mild household detergent and water.
  5.For more question, Please contact us direcly by pohe, email or online service.
  our company as a outdoor Expanded Metal Fence Factory ,if you need that pls contact us.